[Wood Profile] What You Need To Know: Kapur
Kapur is one of the lesser-known timber woods for export. It's still used for timber exports nonetheless. The scientific name of this timber is Dryobalanops or Dipterocarpaceae. Kapur is its conventional, layman term. Common species include the following:
D. aromatica
D. beccarii
D. keithii
D. lanceolata
D. oblongifolia
D. rappa
Kapur's sapwood is usually yellow-brown in shade. It is largely defined from its heartwood, which is usually reddish-brown in colour.
Kapur Wood Characteristics
Forest Research Institute of Malaysia (FRIM) has done research on untreated Kapur species of D. aromatica and D. oblongifolia. That's base on dimensions of 51 mm x 51 mm x 610 mm.
In their research, FRIM finds that both Kapur sub-wood species only have shelf lives of 6 years and 1.5 years respectively. This classifies as wood that is not durable. Oftentimes, these woods are subject to termite infestations and fungal attacks. People who have worked around these woods before report back saying how it is difficult to treat. It is not amenable to preservative treatment either.
However, with that being said, it does not mean that people do not use them. It has its own uses too.
Wood Uses
The Kapur timber is great for medium constructions such as:
Posts
Beams
Joists
Rafters
Door and window frames
Sills
You can also find people using Kapoor wood for:
Fender supports
Telegraphic and power transmission posts and cross arms
Flooring
Staircase (treads, angle blocks, rough brackets, bullnose, riser, balustrade, carriage, stringers, round end and winder)
Vehicle bodies (frame-work, floorboards and planking)
Ship and boat building (keels, keelson and framework)
Pallets (heavy and permanent types)
Tool handles (impact)
Cooling tower (structural members)
Plywood
Laboratory benches
Column (light duty)
Railway sleepers.
In domestic flooring and internal fittings where the final products' appearance is important, great care should be taken in fixing it. This is dues to its tendency to develop an unsightly black stain in contact with iron nails, screws or other similar fittings.
This timber is not endorsed for in-ground use (durability in ground class 3). However, it is always preferred for external decking. You can always use it to create sturdy outdoor furniture. Kapur wood needs no finishing and will not rot easily when left outdoors where rain and sun will damage other lesser quality woods. When you leave Kapur out untreated, it will weather to a soft warm shade of grey similar to the weathering of teak. It can also be used decoratively to make internal fittings, plywood, joinery and lining, as it displays an outstanding figure.
Kapur wood exhibits a class 2 durability, making it idyllic for use in general construction. It makes an attractive material, especially for flooring and staircases. The timber is also highly prized for external joinery, especially for door and window sills, as it is resistant to decay when fully exposed to weathering.
Strength and Machining Properties
Below are the strength and machining properties of Kapur.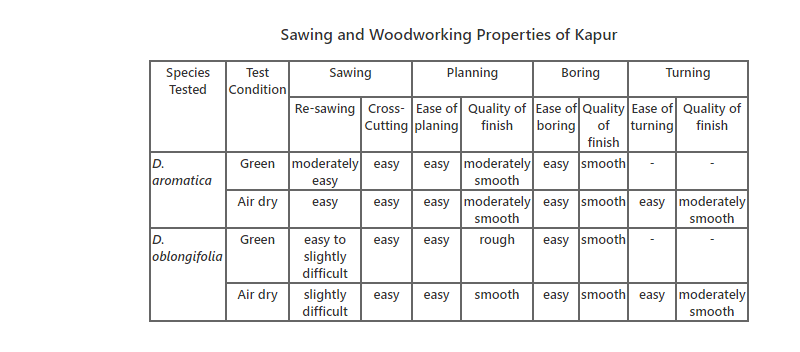 Kapur Wood Defects
The most common defect that you can find in a Kapur timber is the pin-holes. It was reported that the pin-holes are more frequently found in D. aromatica species than in
D. oblongifolia. The pin-holes are caused by small ambrosia beetles. The attack usually begins in Kapur's living tree and the attack cannot continue in seasoned wood. Spongy heart may happen in logs; however, the presence is usually insignificant. 
 Conclusion
Kapur is one of the lesser-known timber types and is not as popular as other woods due to its smaller durability. However, it is still used by construction companies for varying purposes.
Articles That May Interest You